With Shawn Kent, LSW Clinical Director at the Amala Foundation
Saturday, February 8th @ 9:30 AM – 5 PM $120 1006 South 8th Street
It takes the power of mindfulness, the energy of experiential learning, and the impact of authenticity to create the essential context for breakthrough facilitation. This interactive and experiential training offers the tools and techniques for expanding skills and understanding, required to be a truly impactful facilitator of developing programming. This training will serve as both a professional and personal development experience.
---
JANUARY
With Ashley Weber 4-week course: Jan 8th – 29th
Wednesdays 7-8:30 pm
Full Series: $85 Single Course: $25
Before we give to the ones we love, we must first fill up our own cup. Why not start 2020 off deepening your knowledge of yourself and your unique self-care needs?
Each class is designed to build on to the previous class. We highly recommend taking the full course, however, you're welcome to sign up for a single class.

Classes will be held in the intimate setting of the Amala Foundation House.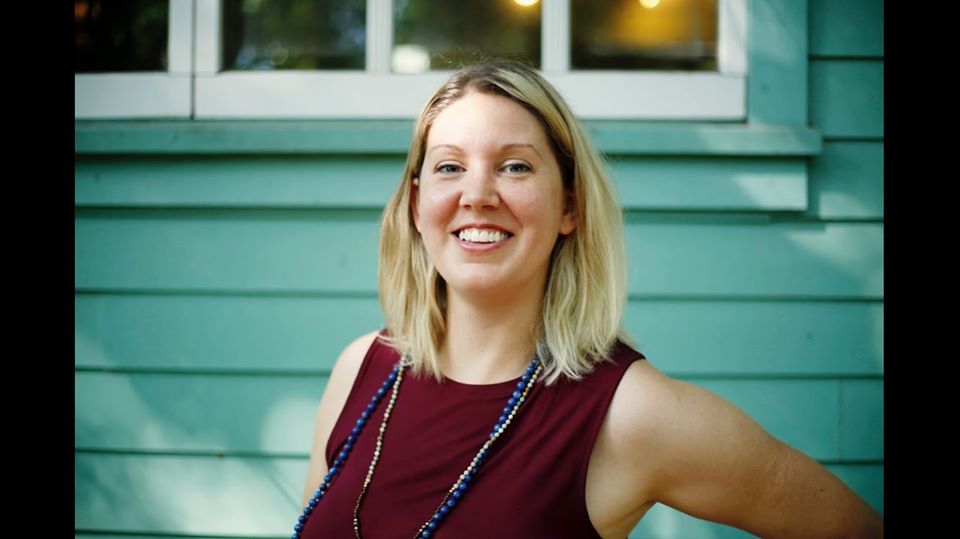 ---
With Sade Jones 4-week course: Jan 10th – 31st
Fridays 7-9 pm
Full Series: $85 Single Course: $25
This four-part workshop series facilitates innate wholeness. Each week will engage in a different topic relating to how we exist in our bodies and their power. Sade offers her expert knowledge in somatic movement supported by elements of meditation, live sound, and restorative yoga. Her Movement Signature Technique makes room for understanding how your body holds your essence, how it is dynamic, and how you can recalibrate it. Change how you move – change how the world moves around you!
Each week you will be guided through discovery, choice, and celebration as it relates to a topic. Leave each week with self-care practices and easy to apply info.
Complete the whole series to discover your movement signature + create a personalized moving meditation.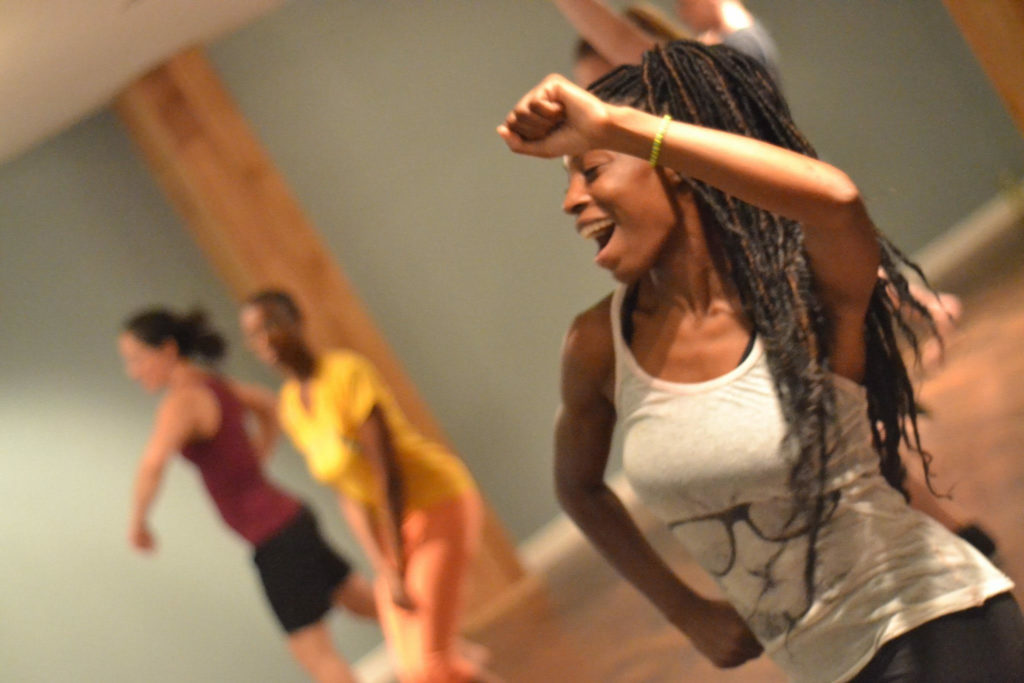 ---
With Fanny Priest Sunday, January 19th @ 2 PM – 4:40 PM Sliding Scale: $30 – $45
On the path to individual and collective healing, many of us are uncovering trauma as a root cause of suffering, and as an obstacle to living the lives of peace, pleasure, and creativity that we are meant for.
With its slow, supported poses and interior focus, yin yoga helps us create a safe container in which to process and release the discomfort and strong emotions that are often symptoms of trauma. As we increase our resilience in the face of these painful experiences, we lessen the grip that trauma has on our systems and our lives,
This introductory workshop is designed to offer an exploration of the ways in which yin yoga can assist in processing and healing trauma by helping to regulate the nervous system and restoring a sense of self-trust in our relationship with our bodies.
While this workshop will be gentle and trauma-informed, is not intended to diagnose or treat active or acute trauma, and may not be suitable for people experiencing PTSD or C-PTSD. It is highly recommended that folks who experience deeper, more complex trauma be under the care of a qualified therapist or counselor in order to participate in the workshop.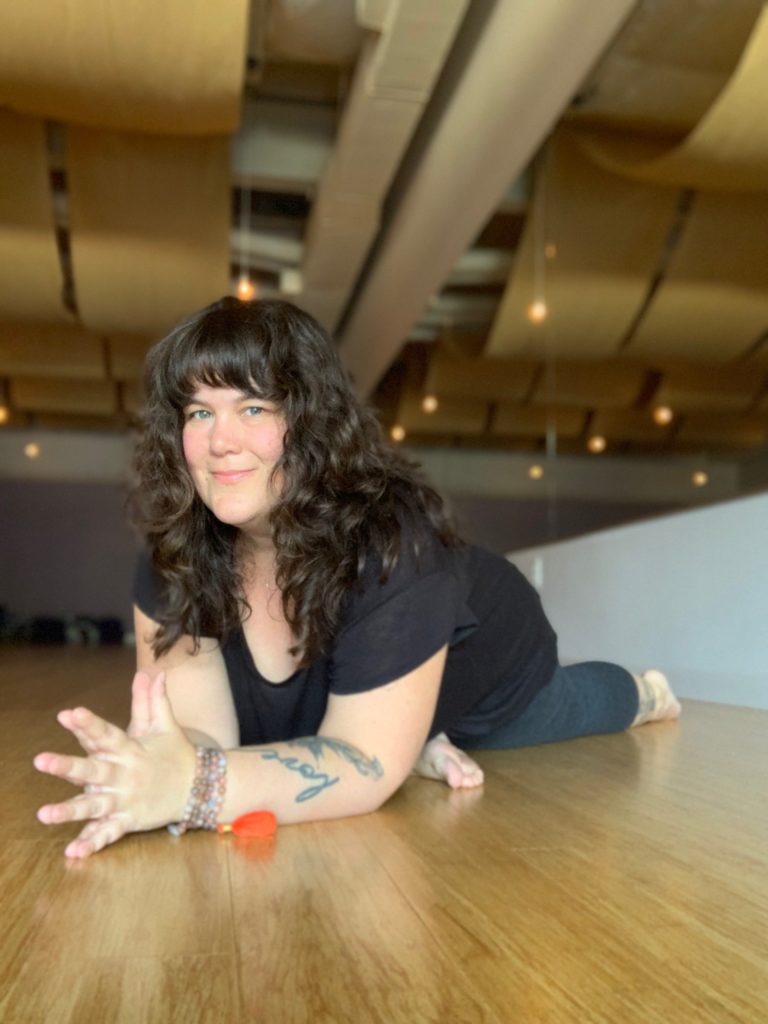 ---
FEBRUARY
With Alec Brownridge and Jacob Fisher Friday, Feb. 7th @ 6:30 PM – 8:30 PM Sliding Scale: $30 – $45
This workshop is for anyone who identifies as a male. Cultivate inner awareness and resilience through the practice of yoga and develop a balanced understanding of masculinity. We will explore the physical, mental and emotional balance through conversation and movement.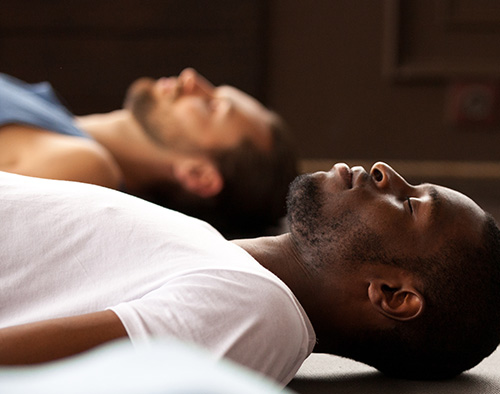 ---
With Ashley Weber and Ali Holder Sunday, Feb. 9th @ 6:30 PM – 8:30 PM Sliding Scale: $30 – $45
Refill your cup with decadent yoga and the live music stylings of local musician Ali Holder. This Vin Yin practice is designed to open your heart and remember the universal love within yourself and your community. Enjoy chocolatey treats, Valentine's day card marking, and optional Tarot readings.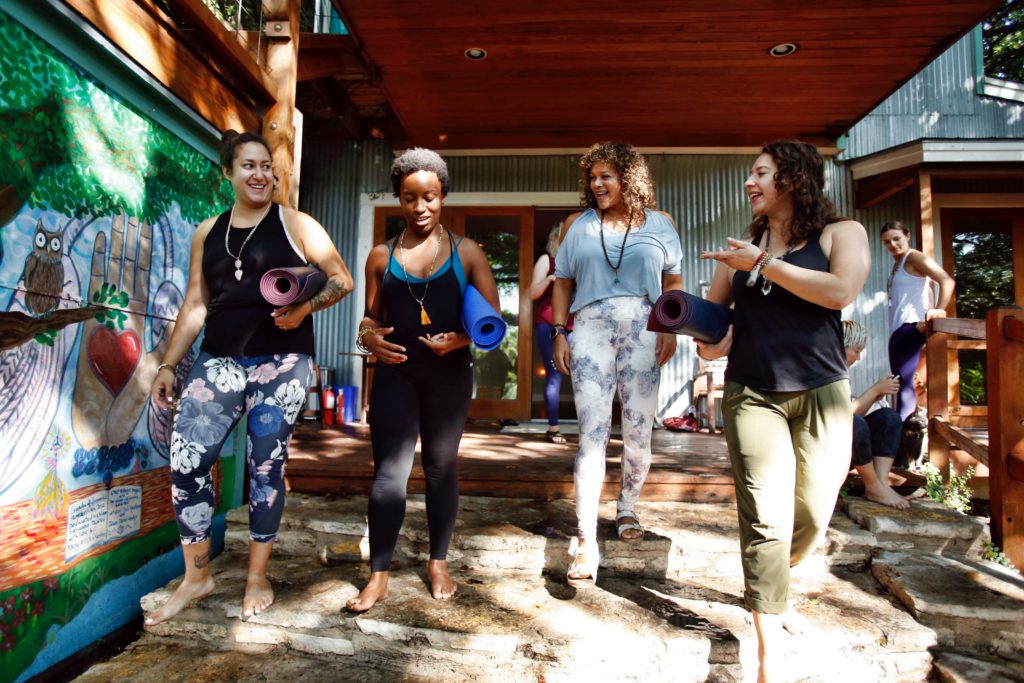 ---
With Erinda Martin Friday, Feb. 21 @ 6:30 PM – 8:30 PM Sliding Scale: $30 – $45
During this New Moon Ceremony, we will experience gentle yoga stretches, guided breathwork, a brief meditation, journaling practice, and sharing circle. Join us in a sacred ritual to plant seeds of intentions for the New Moon that will be happening on February 24th.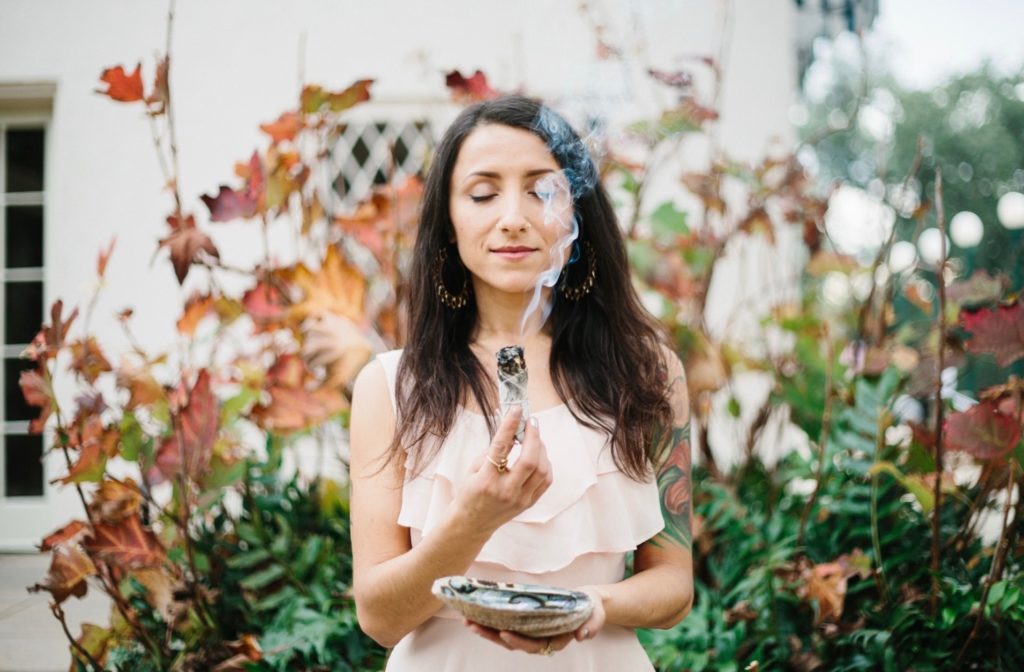 ---
With Cynthia Bernard Sunday, Feb. 23 @ 2 PM – 3:30 PM Sliding Scale: $30 – $45
We will practice gentle and restorative movements, connect to our breath and prepare to be immersed within the soothing vibrations of sound.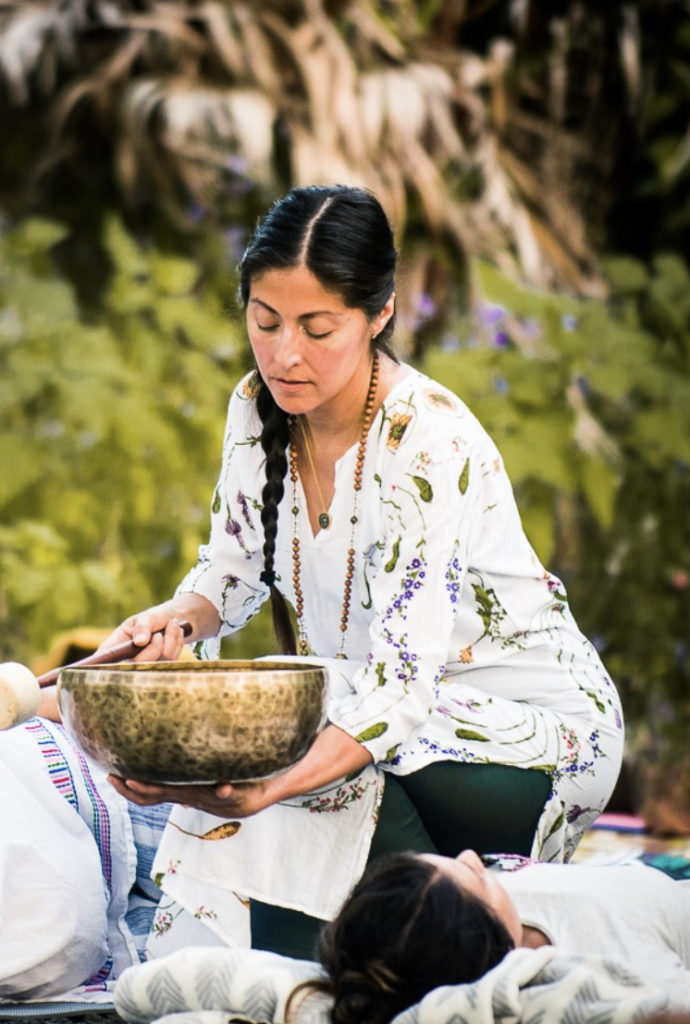 ---
With Karla Wanjiru Sunday, Feb. 23 @ 6:30 PM – 8:30 PM Sliding Scale: $30 – $45
This workshop is for those who want to connect deeper with embodied self-love and prosperity. This potent workshop will include ceremonial-grade cacao elixir, guided meditation journey, and a mini tarot card forecast.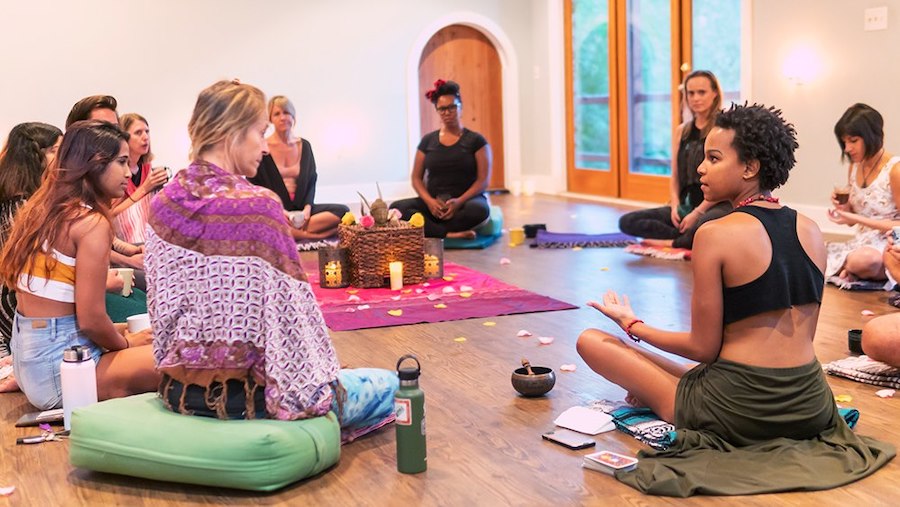 ---
With Alyson Atma Simms Friday, Feb. 28 @ 7 PM – 9 PM Sliding Scale: $30 – $45
The grieving lives in a parallel reality that is altered and not fully in this world. It is important for them to stay there as long as they need to and feel the support of their community. Alyson Simms will be facilitating a unique experience to help bring light to a topic that is usually avoided or misinterpreted.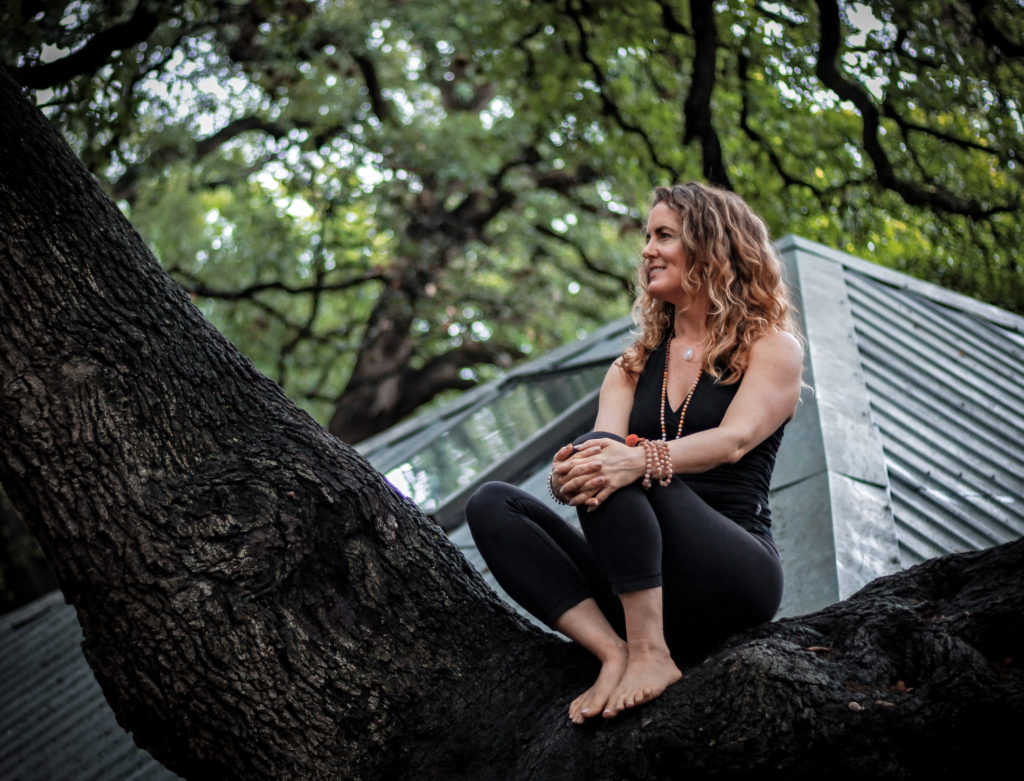 ---